Welcome to Earthquake Country!
National Tsunami Awareness Week

March 24-30, 2013, is National Tsunami Awareness Week, and it has now been 2 years since the 9.0 earthquake off the coast of Japan which devastated coastal areas of northeastern Japan and sent damaging waves across the pacific. CalEMA has organized a special webpage with information and links about tsunamis including educational and preparedness resources.
Magnitude 9.0 Japan Earthquake, 3/11/11
3D animation of foreshocks, mainshock, and aftershocks through March 22 (SCEC)
Scientific Details and Maps (USGS) | Tsunami Information (NOAA) | Educational Resources (IRIS)
---
Drop, Cover, and Hold On!


Read our
special report
about why firefighters, search and rescue experts, public health officials, emergency managers, and many others recommend that you "drop, cover, and hold on" to protect yourself during earthquake shaking... and why you shouldn't believe the "triangle of life" e-mail.
---
The Great California ShakeOut!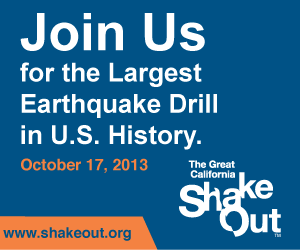 The Earthquake Country Alliance is the organizer of California's annual earthquake drill. The ShakeOut is our chance to practice how to protect ourselves during earthquakes, and to get better prepared. More than 9.4 million people participated in 2012. Is your school, workplace, community group, city, or other organization registered for 2013? Everyone can participate, wherever you are at 10:17 a.m. on 10/17. Join us!
---
There are several sections of this website, available through the links at left and above:
[NOTE: EarthquakeCountry.info is being expanded to be statewide, but for now much of the earthquake information is focused on southern California. However, the preparedness information is good anywhere.]
Other Resources:
ECA Non-Profit and Faith-Based Organizations Newsletter
California Earthquake and Tsunami Communications and Outreach Plan
Earthquake Shaking Potential in Southern California
A map showing the relative frequency of strong earthquake shaking in southern California. This map is part of our booklet, Putting Down Roots in Earthquake Country -- download or order your copy today!
10.5: A Miniseries with Major Errors
Facts about the miniseries featuring an impossible magnitude 10.5 earthquake in California